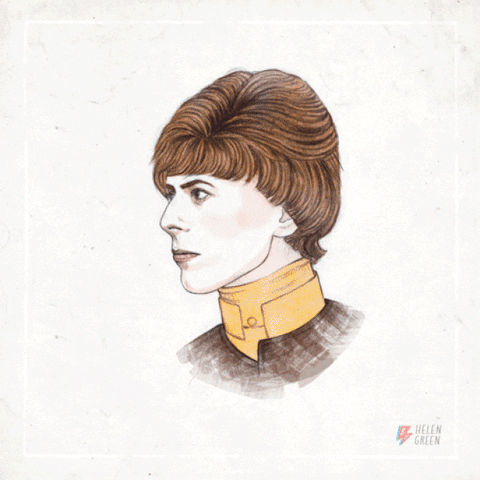 I don't usually post personal blogs that aren't directly influenced by kids fashion, but after hearing about David Bowie's passing I was inspired to reflect upon being gifted by a lifetime of Bowie music, style, acting and fashion. Born on January 8, 1947 as David Robert Jones in Brixton, London, David Bowie died on Sunday January 10th, two days after his 69th birthday. Bowie gifted the world with 25 albums including his last album "Black Star" recently released last Friday. Not to mention his strong influence on fashion & style, including my favorite David Bowie song "Fashion" from the 1980s album "Scary Monsters". Back in October October 2013, a poll carried out by BBC History Magazine named Bowie the best-dressed Briton in history.
Thank you David Bowie for gifting me with a lifetime of Music & Style. I'll never forget your magical eyes and most of all your ability to re-invent yourself with the winds of change. May your rest in peace floating to your next Space Oddity.
Today, I spent the past few hours on youtube listening to Bowie music and being overwhelmed by his influence over four decades and fortune of music he has gifted. Personally, as I listen to each song, it brings me back to a different phase of my life.
Trying to find more information about his four-decade career, I went to Wikkipedia where I found a history on David Bowie and his career.
1962–67: Early Bowie Career to Début album
In 1962, at the age of 15 David Bowie formed his first band the Konrads playing guitar-based rock and roll. When Bowie left technical school he informed his parents of his intention to become a pop star. In 1967 he released his album debut, David Bowie, an amalgam of pop, psychedelia, and music hall that failed to chart.
1968–71: Space Oddity to Hunky Dory
On July 11, 1969 Space Oddity was released, five days ahead of the Apollo 11 launch, to become a UK top five hit. Featuring philosophical post-hippie lyrics on peace, love and morality, its acoustic folk rock occasionally fortified by harder rock.
In 1970 Bowie released his third album, The Man Who Sold the World, said to contain references to schizophrenia, paranoia, and delusion.
The Hunky Dory album was released in 1971 that was not a significant commercial success at the time but it's one of my favorite Bowie albums including the songs Life on Mars and Changes.
1972–73: Ziggy Stardust
During Bowie's tour in the US he observed two seminal American proto-punk artists that inspired him to develop the Ziggy Stardust character: a melding of the persona of Iggy Pop with the music of Lou Reed, producing "the ultimate pop idol". In February 1972, dressed in a striking costume, his hair dyed red, Bowie launched his Ziggy Stardust stage show which was a huge hit.
Bowie released The Rise and Fall of Ziggy Stardust and the Spiders from Mars in June 1972, combining the hard rock elements of The Man Who Sold the World with the lighter experimental rock and pop of Hunky Dory.
In 1973 Bowie released Aladdin Sane his first number one album that topped the UK chart. Bowie described the album as Ziggy goes to America, as it contained songs he wrote while traveling to and across the US during the earlier part of the Ziggy tour.
Pin Ups (1973) was his last studio album with the bulk of The Spiders from Mars, his backing band throughout his Ziggy Stardust phase.
1974–76: Soul, Funk and the Thin White Duke
Bowie moved to the US in 1974, initially staying in New York City before settling in Los Angeles.
The Diamond Dogs 1974 album headed Bowie towards soul and funk, was the product of two distinct ideas: a musical based on a wild future in a post-apocalyptic city, and setting George Orwell's 1984 to music.
The "Young Americans" 1975 album has a sound that Bowie identified as "plastic soul", constituted a radical shift in style that initially alienated many of his UK devotees.
Young Americans yielded Bowie's first US number one, "Fame", co-written with John Lennon, who contributed backing vocals. Lennon called Bowie's work "great, but it's just rock'n'roll with lipstick on".
Station to Station 1976 introduced a new Bowie persona, the "hin White Duke of its title track – an extension of Thomas Jerome Newton, the extraterrestrial being he portrayed in the film The Man Who Fell to Earth the same year.
1976–79: Berlin Era
Bowie moved to Switzerland in 1976 where he found time for other pursuits outside his musical career – devoting more time to his painting and produced a number of post-modernist pieces. Later that year Bowie's interest in the burgeoning German music scene prompted him to move to West Berlin where he began to focus on minimalist, ambient music.
The Low 1977 album evidenced a move away from narration in Bowie's songwriting to a more abstract musical form in which lyrics were sporadic and optional.
The Heroes 1977 album incorporated pop and rock to a greater extent, seeing Bowie joined by guitarist Robert Fripp.
The Lodger 1979 album is the last of the Berlin Trilogy recorded in collaboration with Brian Eno was more accessible than its immediate predecessors Low and Heroes, having no instrumentals and being somewhat lighter and more pop-oriented.
1980–88: New Wave and Pop Era
The "Scary Monsters and Super Creeps" (1980) album produced the number one hit "Ashes to Ashes", featuring the textural work of guitar-synthesist Chuck Hammer and revisiting the character of Major Tom from "Space Oddity".
Bowie reached a new peak of popularity and commercial success in 1983 with "Let's Dance" co-produced by Chic's Nile Rodgers, the album went platinum in both the UK and the US.
"Tonight" (1984), another dance-oriented album, found Bowie collaborating with Tina Turner and, once again, Iggy Pop.
In the "Never Let Me Down" (1987) album, Bowie ditched the light sound of his previous two albums, instead offering harder rock with an industrial/techno dance edge.
1989–91: Tin Machine
Bowie shelved his solo career in 1989, retreating to the relative anonymity of band membership for the first time since the early 1970s. A hard-rocking quartet, "Tin Machine" came into being after Bowie began to work experimentally with guitarist Reeves Gabrels.
The band later drifted apart, and Bowie, though he continued to collaborate with Gabrels, resumed his solo career.
In October 1990 Bowie and Somali-born supermodel Iman were introduced by a mutual friend and were married in 1992.
1992–98: Electronic period
1993 saw the release of Bowie's first solo offering since his Tin Machine departure, the soul, jazz and hip-hop influenced "Black Tie White Noise".
Bowie explored new directions on "The Buddha of Suburbia" (1993), a soundtrack album of incidental music composed for the TV series adaptation of Hanif Kureishi's novel. It contained some of the new elements introduced in Black Tie White Noise, and also signaled a move towards alternative rock.
Reuniting Bowie with Eno, the quasi-industrial "Outside" (1995) was originally conceived as the first volume in a non-linear narrative of art and murder.
Bowie was inducted into the Rock and Roll Hall of Fame on January 17, 1996.
The "EART HL I NG" (1997) album showcases an electronica-influenced sound partly inspired by the industrial and drum and bass culture of the 1990s.
1999–2012: Neoclassicist Bowie
Bowie created the soundtrack for Omikron, a 1999 computer game in which he and Iman also appeared as characters. Released the same year and containing re-recorded tracks from Omikron, his album Hours (1999) featured a song with lyrics by the winner of his "Cyber Song Contest" Internet competition, Alex Grant.
Bowie and Visconti continued their collaboration, producing a new album of completely original songs instead: the result of the sessions was the 2002 album "Heathen".
"Reality" 2003 followed, and its accompanying world tour, the A Reality Tour, with an estimated attendance of 722,000, grossed more than any other in 2004.
In 2006 Bowie was awarded the Grammy Lifetime Achievement Award.
2013–2016: The Next Day and Blackstar
On 8 January 2013, his 66th birthday, his website announced a new album, to be titled "The Next Day".
Blackstar is the twenty-fifth and final studio album by English musician David Bowie. It was released on 8 January 2016, the date of Bowie's 69th birthday and two days before his death.